This is my Work in Progress Portfolio of practical work conducted during the module. This selection should aim to provide a clear sense of the direction of my project for the next three modules.
All practical work will have been made since the start of the module (25th September 2017).
This will be submitted as either an online portfolio or a PDF, not exceeding 20MB. (Other file formats will not be accepted.)
The accessibility and quality of the presentation of my work will be considered in the assessment of my submission.
I will not include any supporting text other than, if appropriate, a working title for the project and, if appropriate, image titles or captions. The Work in Progress Portfolio will be assessed alongside my Research Project Proposal, which should provide adequate contextualization of the practical work in my Portfolio.
CLICK ON THIS LINK TO VIEW MY CURRENT WORK IN PROGRESS PORTFOLIO
https://daralbrennan.myportfolio.com/falmouth-photography-ma
In addition to the link above (which was a requirement to provide as part of my studies), I am also displaying a larger selection of WIPP images here. All images are taken by me using non land-based photographic techniques and taken during my studies.
All Work in Progress displayed here is exactly that: work I am considering using in final pieces. Work that clearly demonstrates a growing ability and understanding of the direction my practice of non Land-based photography takes me.
This page will be constantly added to as new work is completed throughout my studies.
External factors can play a negative part in the process of creating landscape/outdoor images. As a non land-based practitioner, I am at the mercy of weather on a daily basis. My greatest challenges are rain and high wind.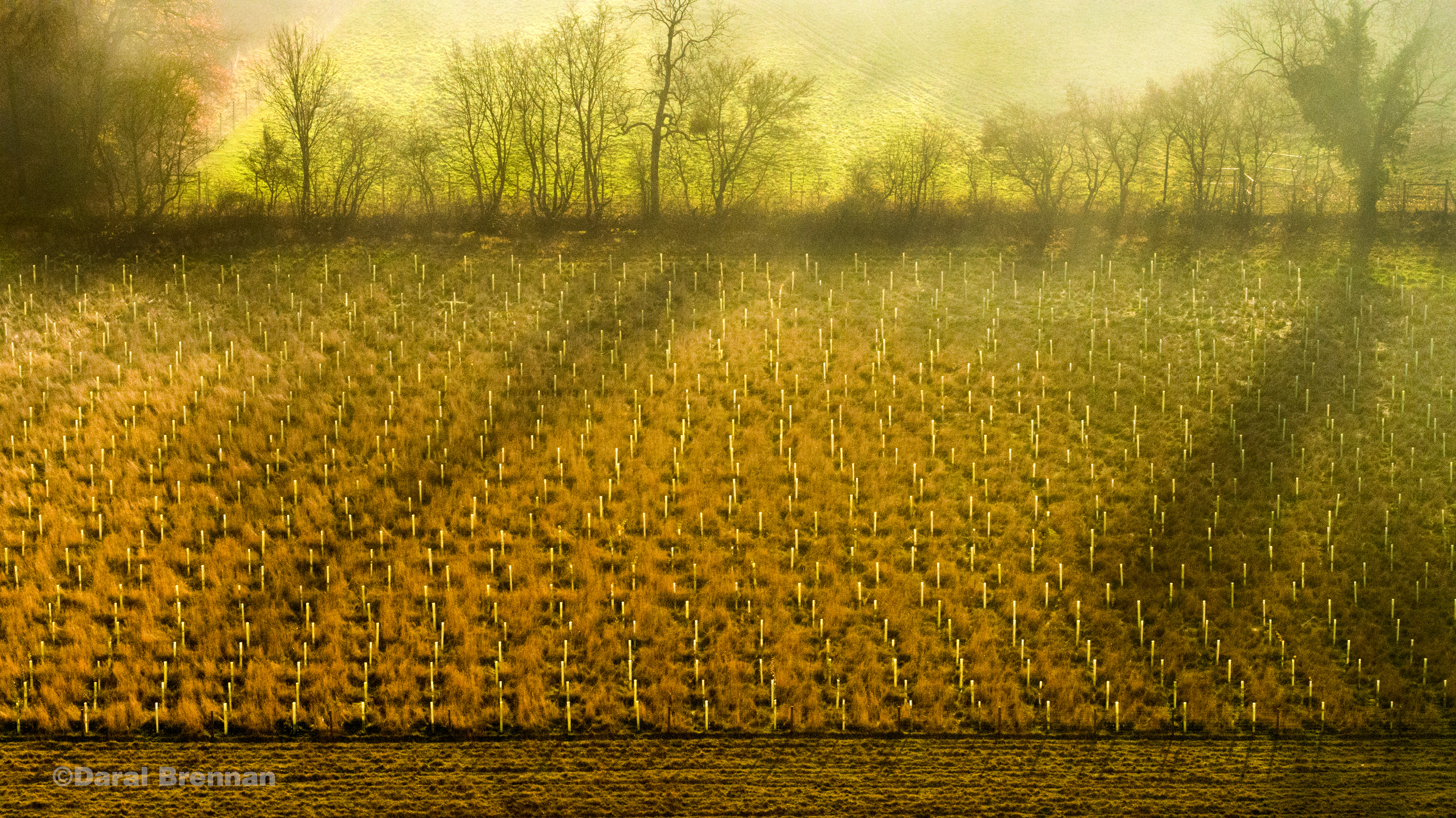 Low, slow-moving cloud at an altitude of around 100 meters played an important part in allowing me to create this image, providing diffusion for the shadows of the back lit trees on the horizon by a low sun. This effect also emphasise texture where very little cloud is present in the foreground.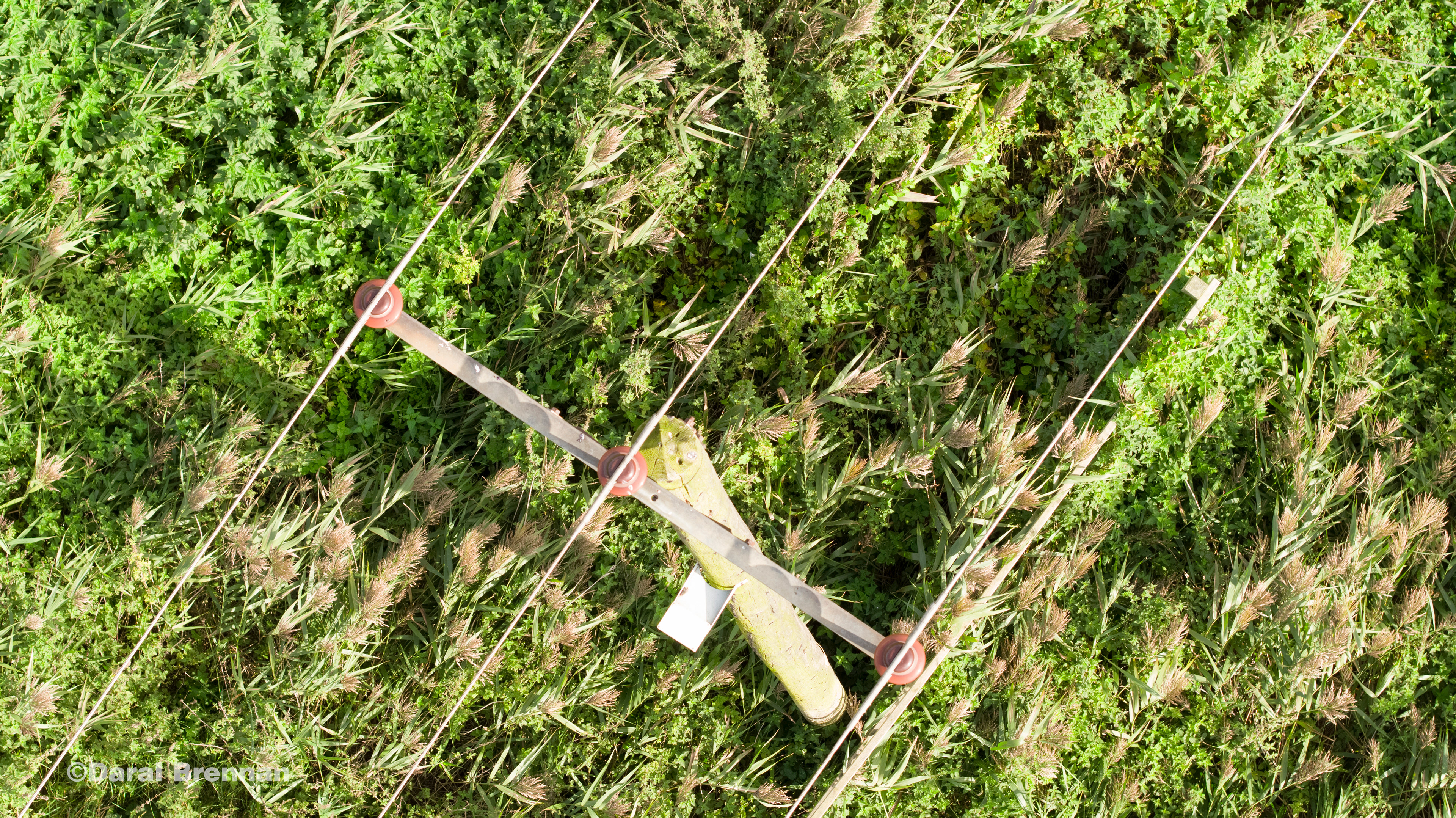 Although an everyday sight along many country lanes throughout the UK, I will always provide a different critical perspective of the mundane and banal. In addition to the compression of scale of height from above, I found the shadow interesting as perhaps the only clue our minds could somehow use encourage us to make some sense of length or height of the pole.
I imagine these graves to be like windows on the world. An opportunity for those beneath to look up back at what is going on in a world they longer have access to. As in all other walks of life, those with larger dwellings have larger windows. Those with little or no dwellings in life, have no windows to look out of.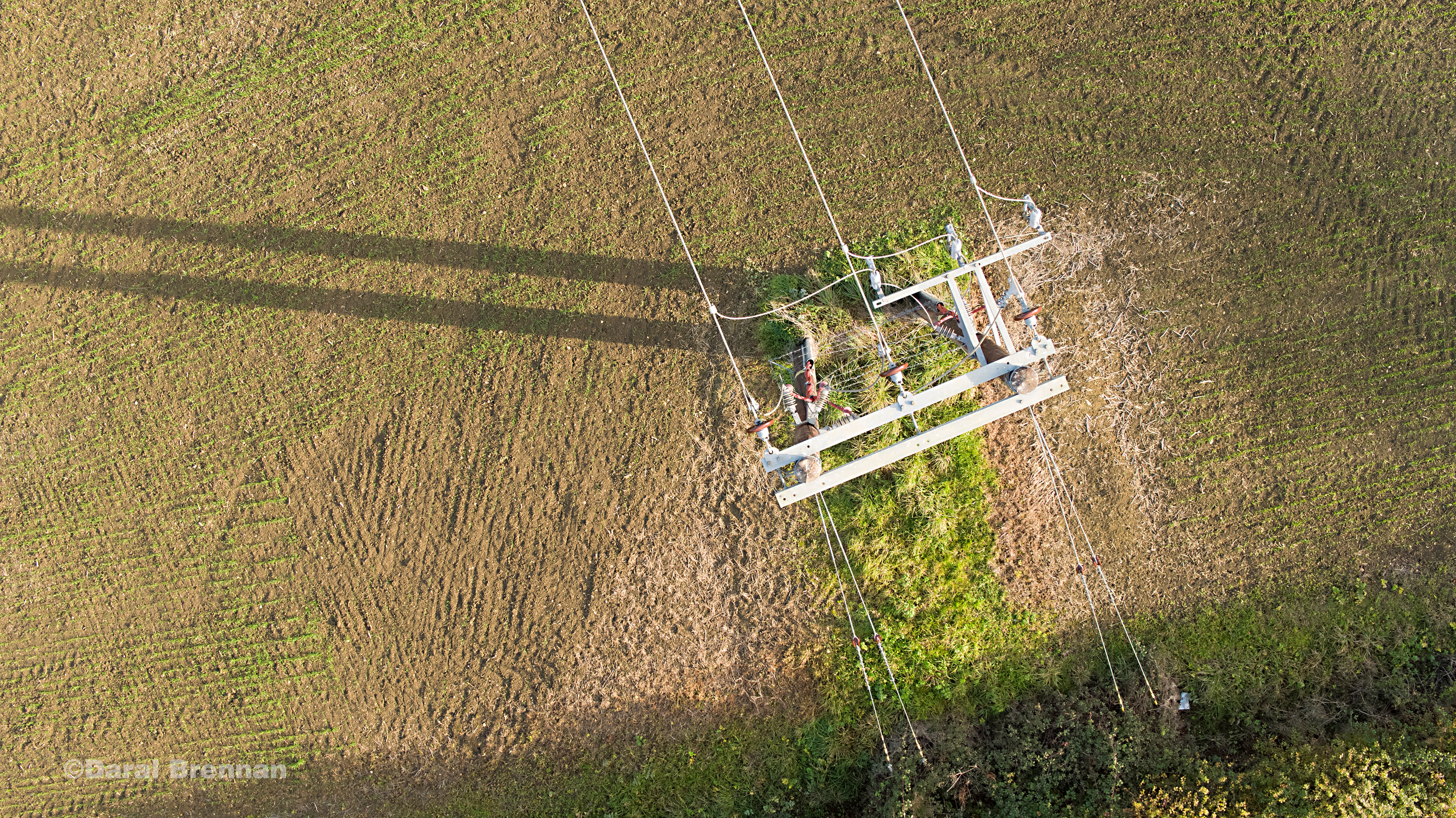 This rural power line has come to an end in a field. From above there is no sense of size or scale. the image is compressed and flat. The only clue to size and orientation are the long shadows cast over the soil. The shadows are of the poles yet do not include the power lines.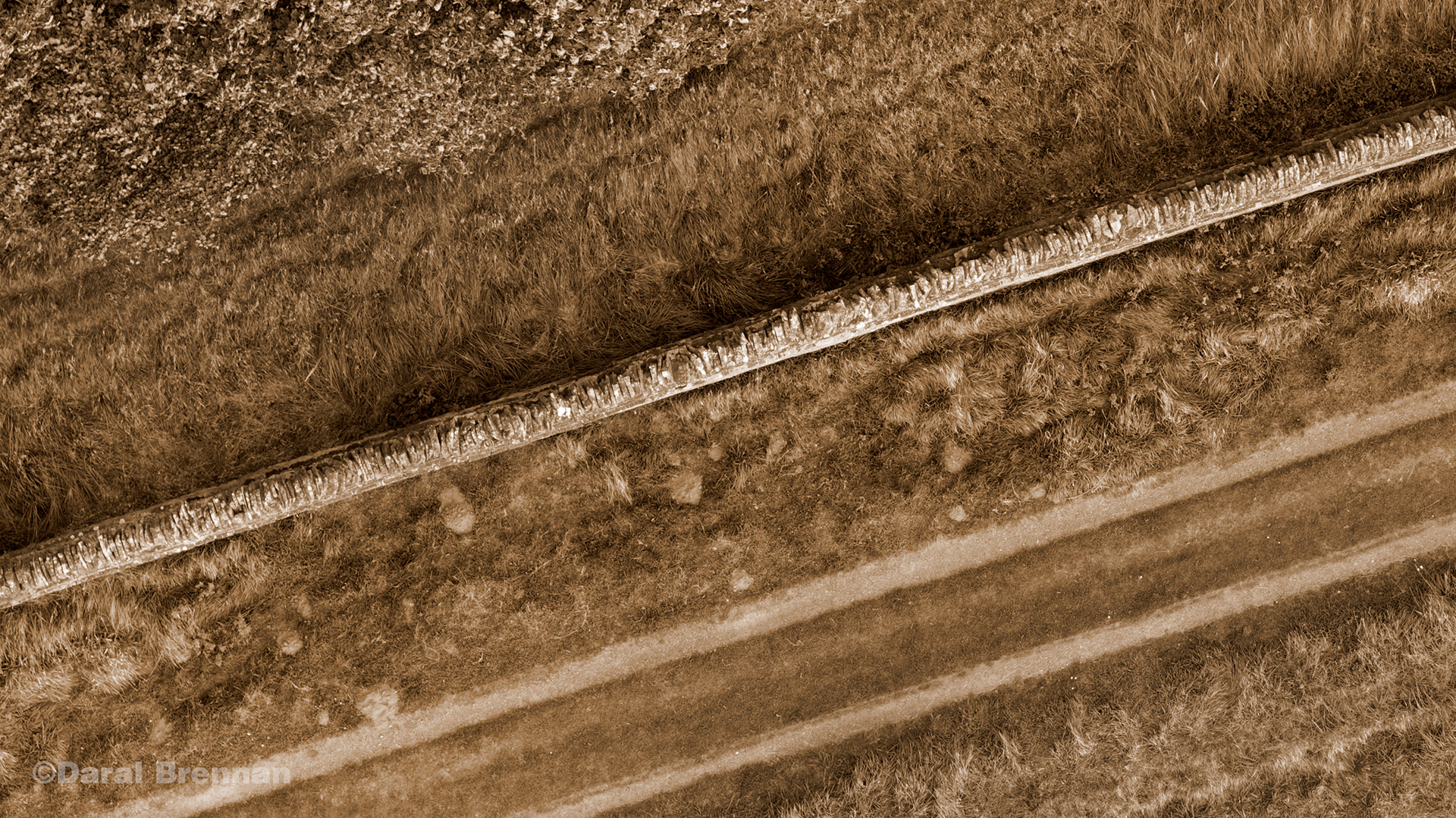 I sepia toned this image to enhance the textures on display so as not to be distracted by colour. In not describing this image, I am deliberately leaving the viewer to contextually decide what they are looking at.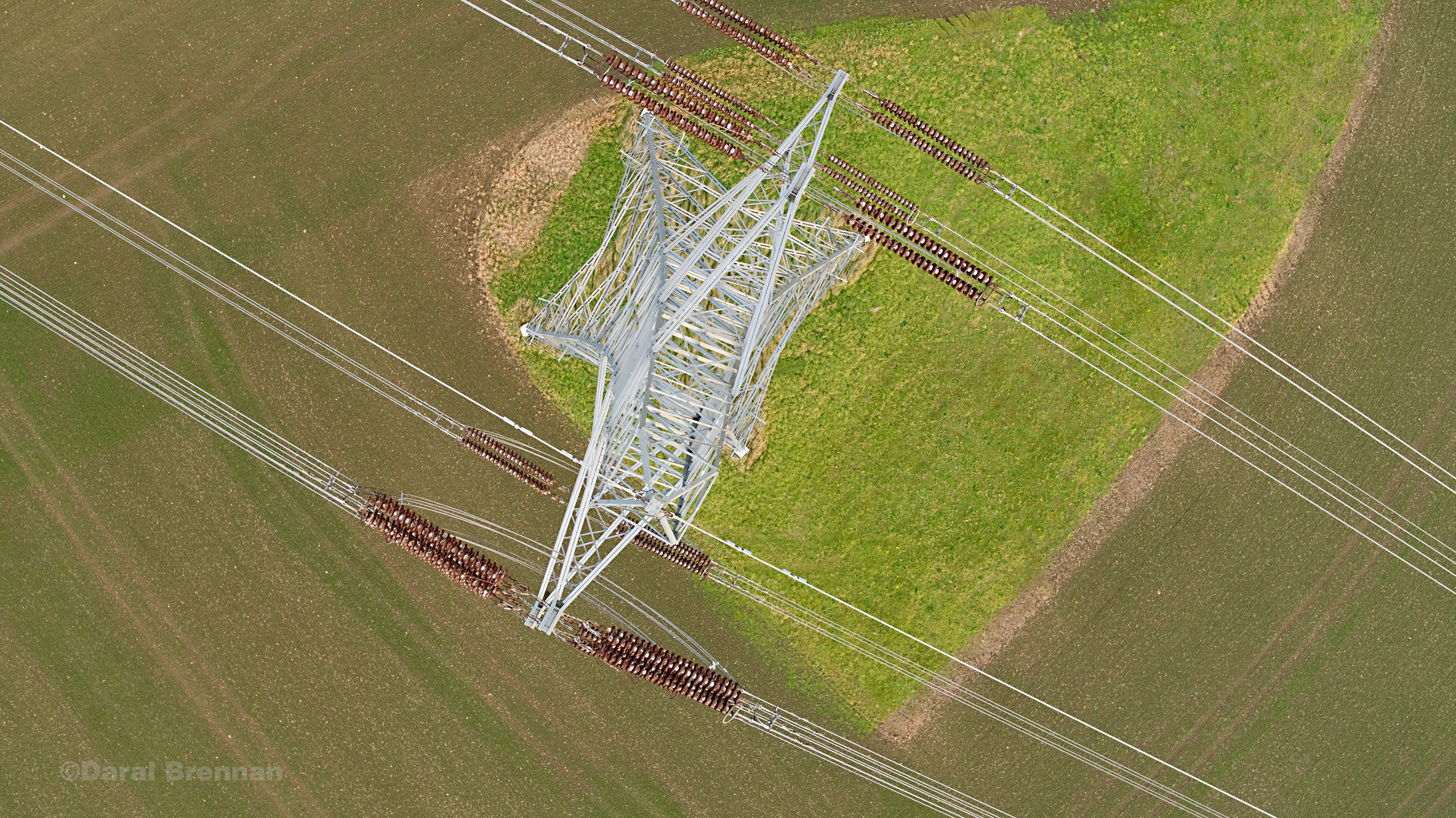 This almost heart-shaped patch of grass echoes my love and admiration for the humble pylon. This particular one is approximately 55 meters heigh and provides contrast between the complex structure and the smooth ground. Looking at the structure of the pylon, we can eventually see the top and this helps orientation.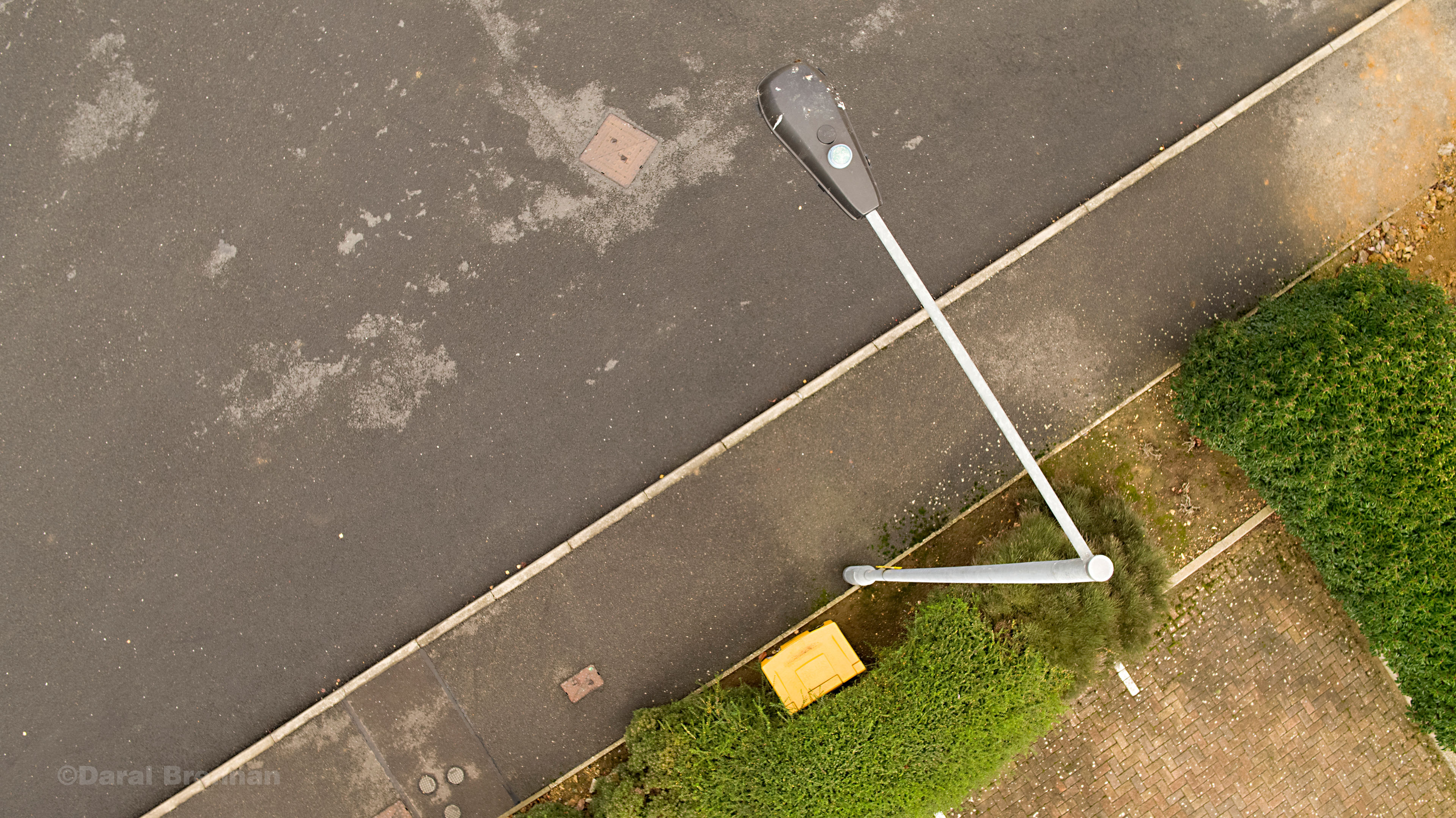 My research Project has a working title of 'Confines of Open Space'. I will photograph everyday mundane, banal objects from a non land-based perspective. I am quite influenced by the work of William Eggleston in his book published in conjunction with his 2015 exhibition 'From Black and White to Color' in Switzerland.
Continuing with pylons, this view is a rare opportunity to see how they grace our landscape. Looking carefully, we can witness them disappearing into the distance to bear right, to cross over the road (also visible on the right). The long shadow of the first pylon giving us at lease some indication as to it's enormity.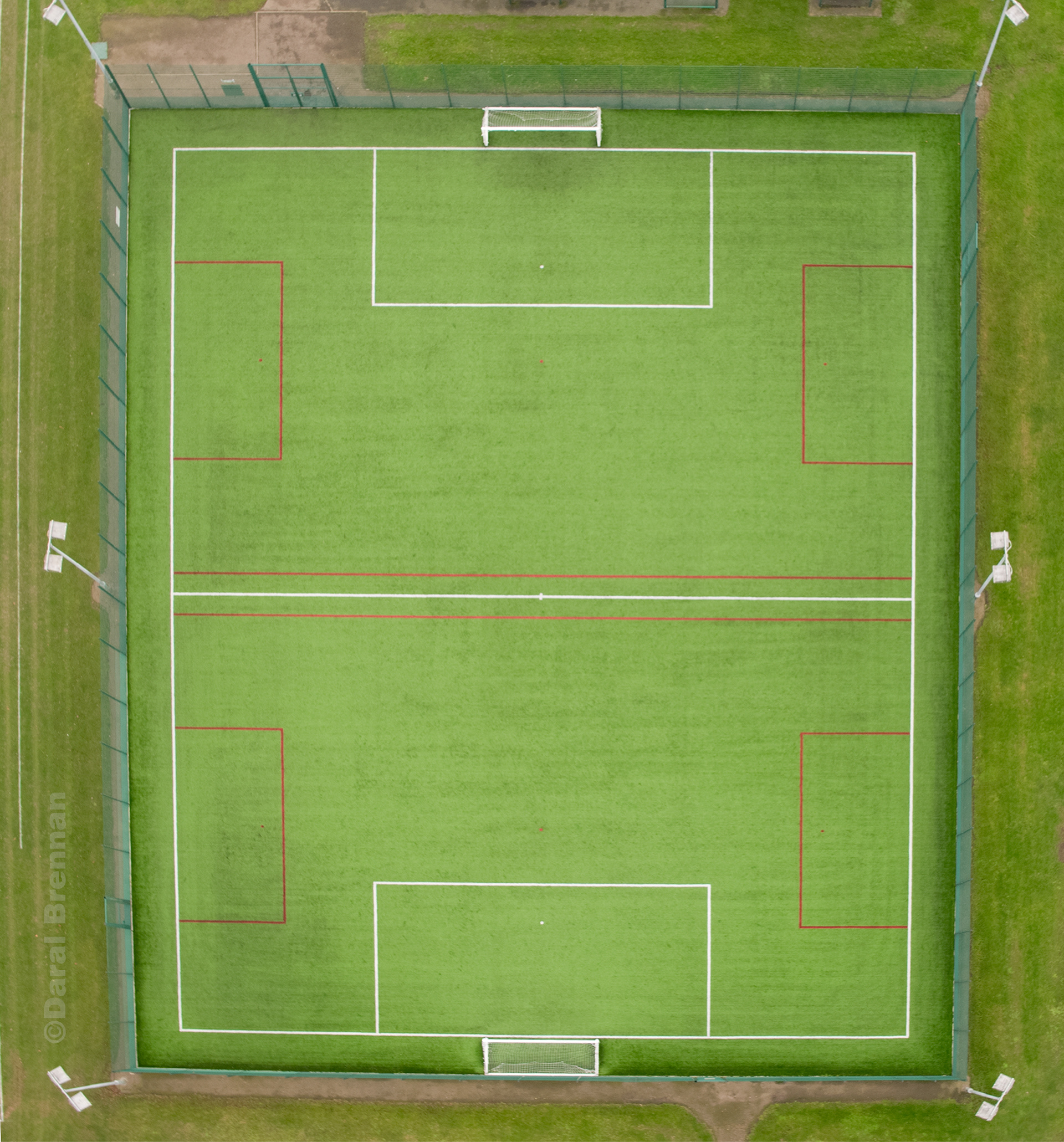 I'm experimenting with geometric shapes observed in the local community. A synthetic football and hockey pitch seemed a good place to start. Having looked at the work of Flavio Samelo (http://flaviosamelo.com/) and Valentina Loffredo  (http://www.valentinaloffredo.com/), I will be trying to complete more geometric themed work within my non land-based practice.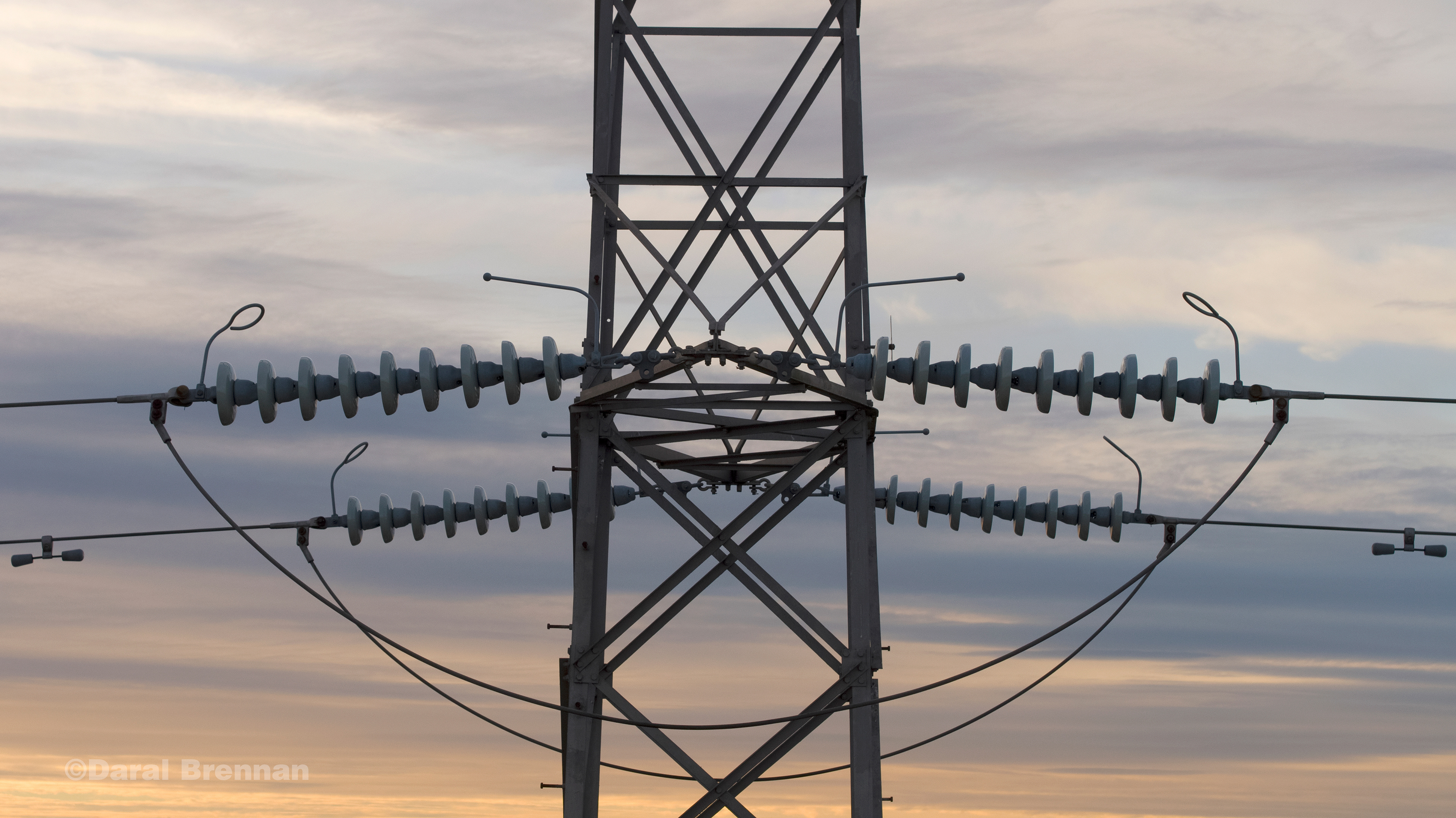 Looks like a smiley face. A small pylon near my studio, symmetrically composed from around 60 feet.
The use of (biodegradable?) plastics in farming assists in creating a contextual artistic environment.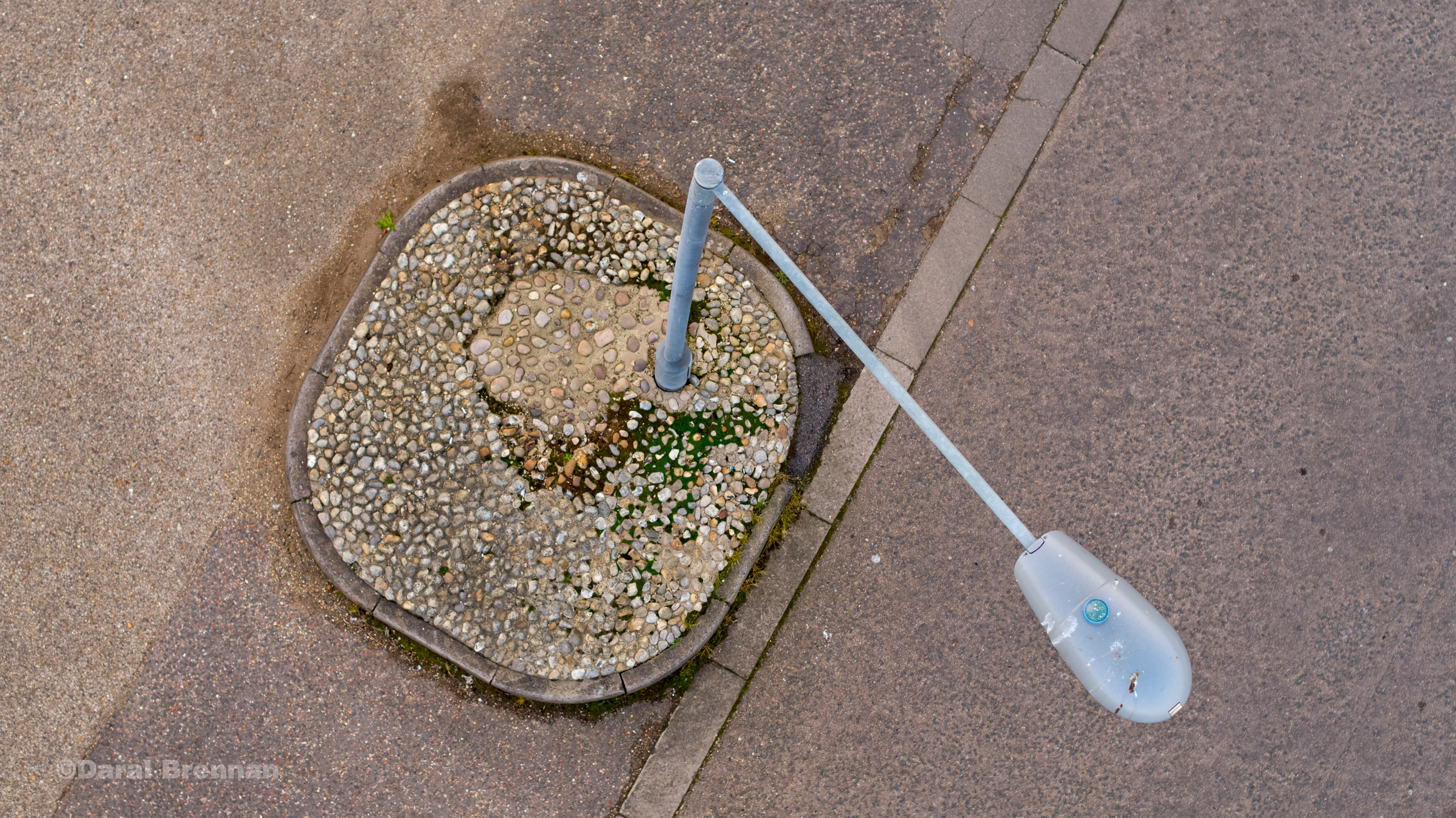 Staying with my banal and mundane theme, in addition to the work of William Eggleston, I also looked at the work photographer Larry Sultan (http://larrysultan.com/). Both of whom captured the ordinary around them.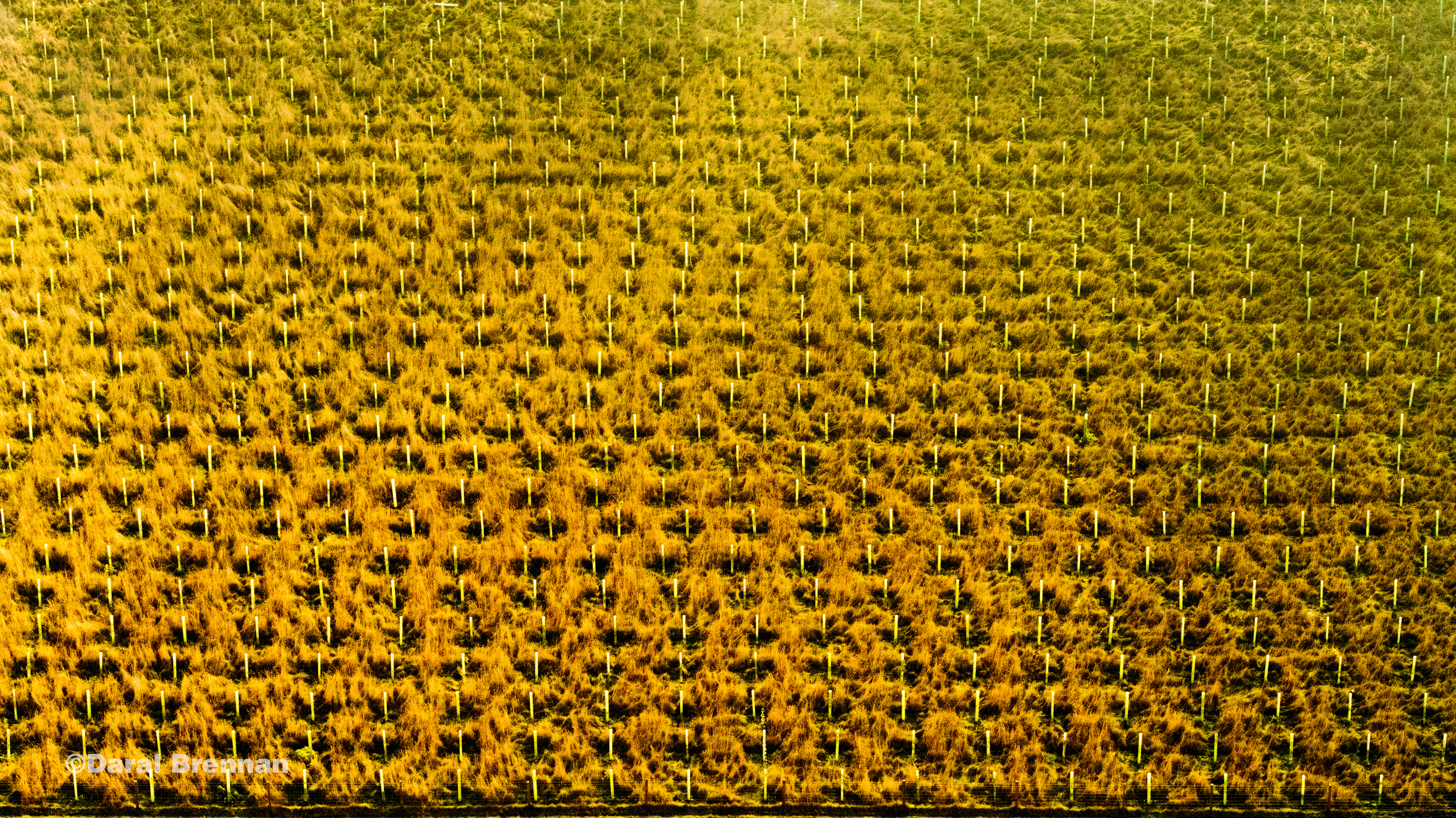 I had several tries at photographing this. The second time being the most successful, as the weather prevented successful outcomes with other attempts. It is one of my favourite images, but I'm not too sure it it quite fits in with mundane and banal.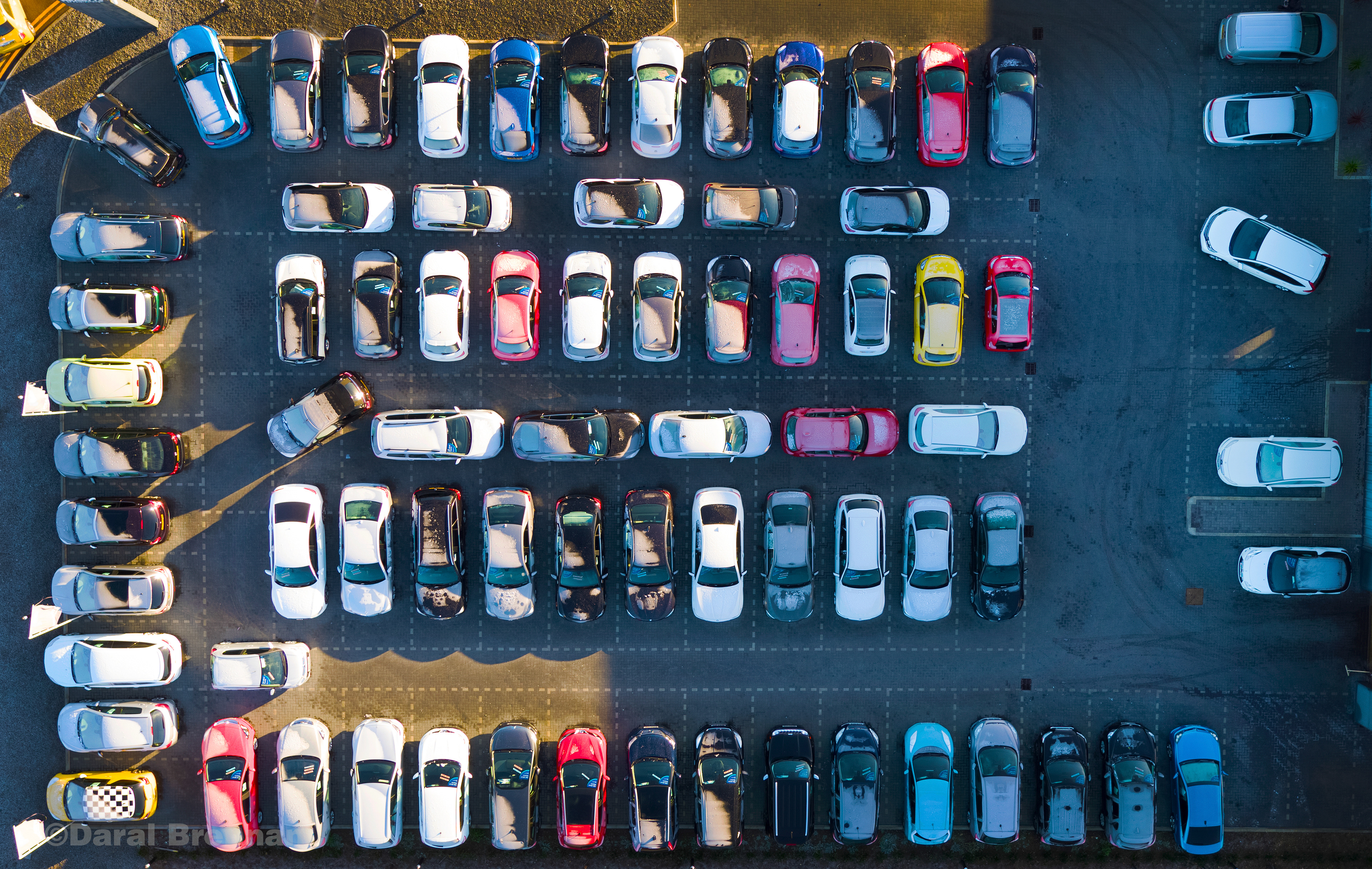 I had to get special permission to photograph this. There are over £1.3M worth of vehicles below. It is my most successful image yet. I planned this for two days and got exactly what I wanted. Colour, sun and frost.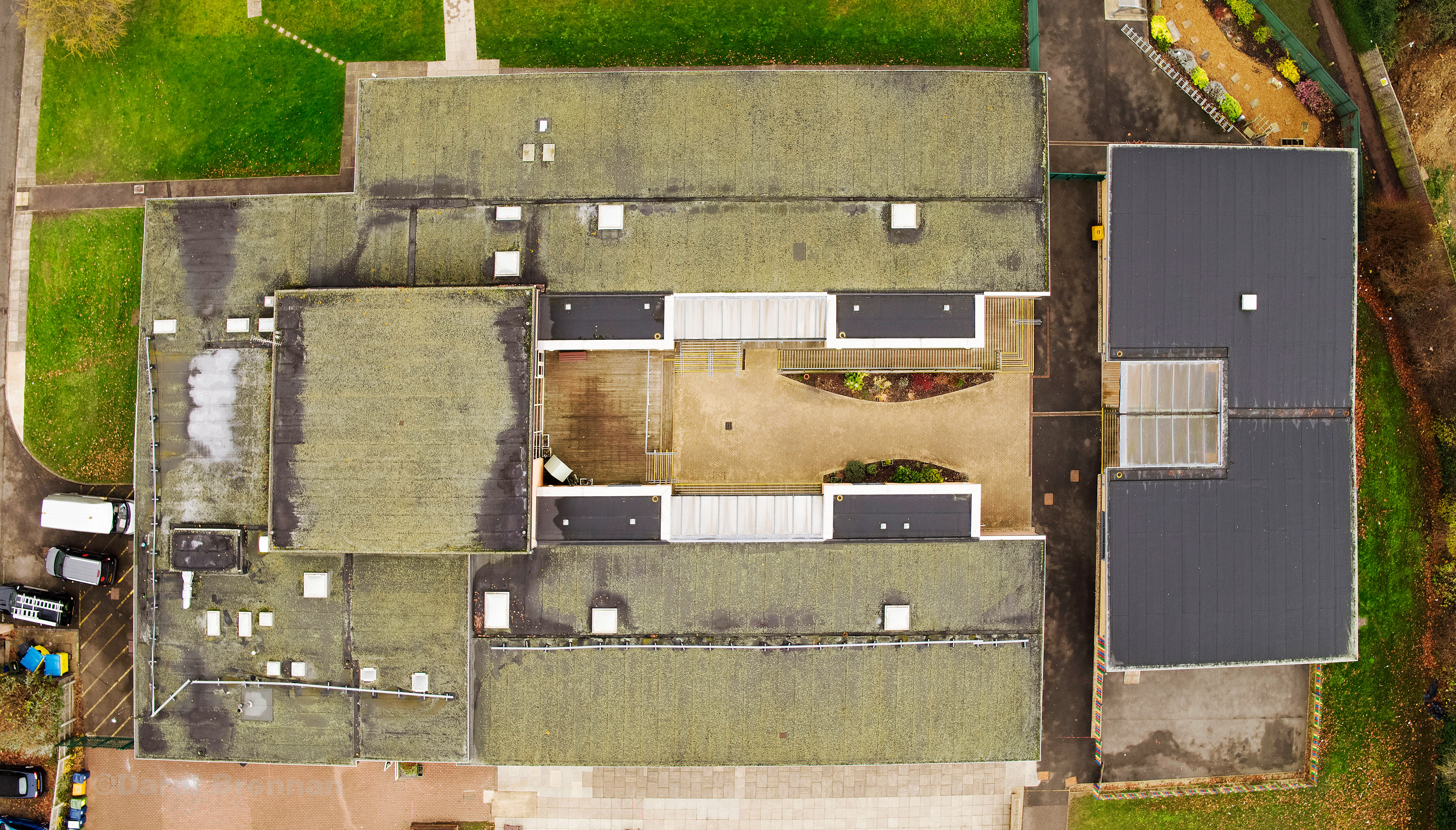 This is the school my son went to and I still have a connection with. It is normally packed with children running, walking, crying, laughing, playing, standing still and lining up. On this day it was eerily silent and void of children. It felt grey and empty inside and seemed to perfectly match the view of the school from above. Empty and Grey.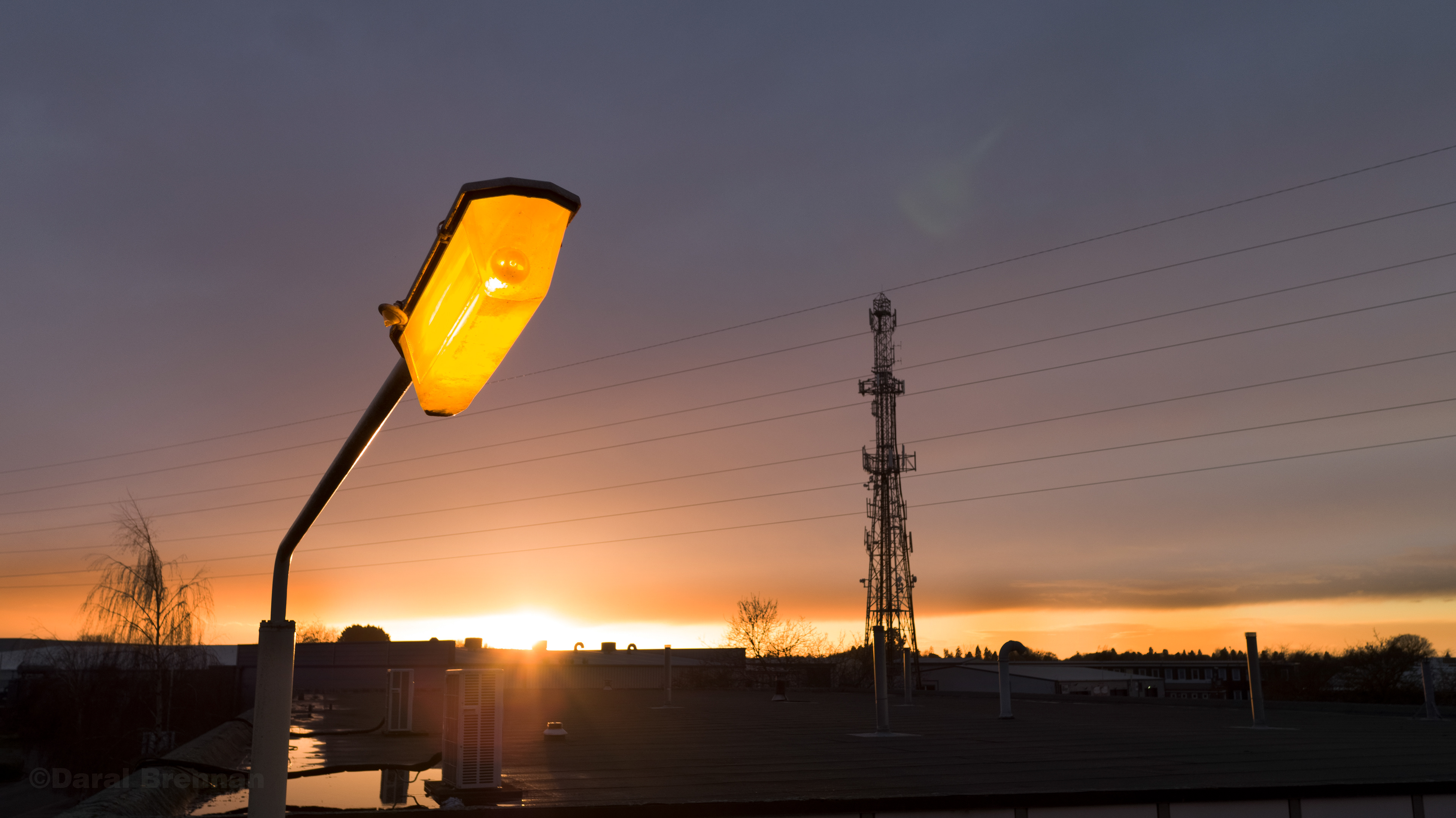 This is an illuminated streetlight from an interesting perspective – in keeping with my overall theme of mundane and banal. We all know what a street light looks like observed from eye level on the ground, but not many of us know what they look like from above, or from straight on at 20 feet. I like the industrial backdrop (that includes a pylon!) silhouetted by the sun setting, trying with it's dying breath to outshine the streetlight. Twenty minutes later, the sun had gone.
A resting crane on New Year's day. Another consideration for my mundane and banal project reflecting contextual ubiquity. Although technically difficult to achieve in aviation terms, clearly demonstrating my piloting skills, the image would be well placed for commercial interest from Potain (crane manufacturer) or Bowmer & Kirkland (construction company).  Taken at the site of British Sugar's new HQ under construction in Cambridgeshire.
Experimenting with city skyline manipulation to question specific dynamics and acceptability of crudeness. Is this too much of a 'work in progress' or would it stand up as a finished piece? Turkish photographer Murat German's work (http://muratgermen.com/about/) is more extreme than this manipulation and really interests me.
In looking at my initial crane image above and concluding another visit was necessary to further give contextual choice of image for inclusion, I decided to change to a longer lens to compress this unusual perspective. It works differently from my other image. It is less obvious and I feel leaves the viewer wanting more.
Original chimneys dating to around 1790. The amount of chimneys a property had denoted the occupier's wealth. There are more chimneys in other areas of this particular house.
Local farming is a place for inspiration and discovery. The lay out of poly tunnel frames awaiting cover in the spring, to protect precious crops.